Illegal immigrants advocates have called for "comprehensive" immigration reform. Well, folks, they're getting it. Senators are introducing amendment after amendment to the "Comprehensive Immigration Reform Act of 2006."

One amendment, for instance, would mandate that all voters present photo identification before casting ballots in a federal election. Sen. Mitch McConnell may have introduced this measure in response to the signs -- "Hoy marchamos, mañana votamos" ("Today we march, tomorrow we vote") -- carried during the march of the illegals.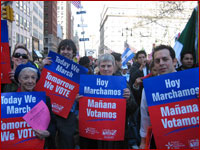 The Senate passed an amendment introduced by Sen. James Inhofe that would make English the national language of the United States (and here).

Raul Gonzalez, legislative director of the National Council of La Raza, told the Washington Post:
This is devastating. For us, this is a tough issue to bring back to the community.
Similarly, the New American Opportunity Campaign acknowledges that "immigration reform legislation is taking a turn for the worse."

The group sent out an action alert to "stop the Ensign amendment." The amendment would prohibit, ahem, "new Americans" from "claiming Social Security based on earnings credited before they were authorized to work in the United States… It is urgent for lawmakers to unite in opposition to this immoral bill and stop Senator Ensign from stealing the money of hard working immigrants (emphasis added)."

But it's OK for illegals to steal education, health and other public benefits paid for by hard working American taxpayers.

BTW, the alert was sent in English and Spanish. So, these "new Americans," who can't speak English, are supposed to call senators and say … what.

The Capitol Switchboard doesn't have the prompt, "Para continuar en español, oprima el dos" ("To continue in Spanish, press two") -- at least not yet.